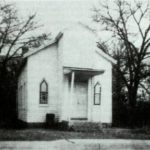 In 1890, the spirit of the Lord led Frank Carter and his wife Sarah (Hebron) Carter to organize the home mission known as St. Mark's Methodist Episcopal Church, as it was first called. Their home was located at 628 8th Street, then known as Church Street. The mission, which consisted of 28 parishioners, was organized under Rev. McHenry J. Naylor's supervision. Rev. Naylor, a circuit rider preacher, was appointed on trial to the all-black Washington Conference and assigned to the Bladensburg Circuit.
Shortly after the mission was organized the congregation moved into a hall, given by the Hebron family, located at 599 Church Street. Later on, the congregation had the hall moved directly across the street to where St. Mark's Church is situated now and had it remodeled. In 1893, Rev. Steward A. Lewis was appointed the first pastor of St. Mark's Church. St. Mark's and Queen's Chapel Methodist Episcopal Church became the Laurel Charge, sharing the same minister. In 1895, Bacon's Chapel (now known as Mt. Zion) was added to the Laurel Charge.
The cornerstone was laid for St. Mark's original edifice on November 8, 1908. In 1912, electric lights were installed. On November 13, 1920, the church was dedicated. The remodeled hall accommodated 50 to 75 people.
In 1921, the building was sold to the Abraham Lodge because the congregation had outgrown the original edifice. The building was moved to a lot across the street. In that same year the cornerstone was laid for a new sanctuary. The new church was built at a cost of $10,480. The edifice was consecrated in the fall of 1923 and accommodated up to 150 people.
In 1939, our church became St. Mark's Methodist Church, upon the merger of the Methodist Episcopal Church, the Methodist Episcopal Church South and the Methodist Protestant Church.
Under Rev. Dr. Levi B. Miller's tenure, the offering envelopes were introduced and our first organ was purchased. During Rev. Joseph Haskins' tenure (1953-1959), the Annual Homecoming (4th Sunday in September) became a tradition.
Rev. John Evans was appointed to the Laurel Charge in 1960. He remained in the charge for nine years. During Rev. Evans' tenure, our church became St. Mark's United Methodist Church upon the merger of the Methodist Church and the Evangelical United Brethren in 1968.
In 1969, Mt. Zion separated from the Laurel Charge; becoming a station church with its own pastor. In 1976 the Laurel Charge was dissolved. Rev. Douglas Logan was appointed the first pastor of St. Mark's as a station church. Under Rev. Logan's leadership, construction plans were made for a renovation and expansion of the church. On Sunday, December 9, 1979, consecration services were held for the remodeled sanctuary and newly built fellowship hall.
In June 1982, Rev. George F. DeFord was appointed to St. Mark's. In January of 1993, Pastor DeFord became St. Mark's first full-time pastor. Rev. DeFord's tenure lasted for 11 years. Rev. DeFord organized the acolyte and liturgist ministries and became involved in counseling family members of the incarcerated.
In July 1993, Rev. Patricia Pride became the first female to serve as pastor of St. Mark's. During her one-year tenure, the Children's Choir officially became the Rays Of Son-Shine.
In July 1994, Rev. Robert E. Walker, Jr. was assigned to St. Mark's. St. Mark's found it necessary to return to having a part-time pastor.
In July 1996, Rev. Vera Mitchell-Mallett was assigned to St. Mark's. In 1997, St. Mark's was blessed to return to having a full-time pastor. Under Rev. Mitchell-Mallett's guidance, the Nursing Home Ministry, Young Adult Ministry, Singles Ministry, Youth Ministry, God's Angel's (Youth Choir), St. Mark's Liturgical Dancers, St. Mark's Steppers, Praise Team, Food Pantry, and Share Project were established and expanded. In 1999. a Study Committee was appointed by the Administrative Council to explore the possibility of expansion.
In July 2001, Rev. John T. Jennings II was appointed to St. Mark's. In 2002, under Rev. Jennings' leadership, St. Mark's began the "Ordained To Build" campaign to construct a new church. Rev. Jennings' tenure was for seven years.
In July 2008, Rev. Robbie Morganfield was appointed our Pastor. St. Mark's continued moving forward with a focus on expanding the ministries of the church. On October 19, 2008 in honor of the church's 118th Anniversary, the parsonage was remodeled and named The Level Place Ministry Center.
In September 2009, St Mark's expanded our Sunday Worship Service by adding a 7:45 a.m. Worship Service. To provide opportunities for our members to spiritually grow, The Sweet Hour of Prayer Ministry, Christian Education Youth Activities, and intense and purpose driven Bible Study classes are available. Because of the expansion of these ministries and studies, it is evident that the glory of St. Mark's will be greater than we experienced in our past. God has always called our church to the greater. Our best is yet to come!
During our 120 year history, St. Mark's has been led by 27 Pastors and 7 Assistant Pastors. Upon their retirement from full-time ministry, Rev. John Evans and Rev. Louis Conway returned to St. Mark's as Pastors Emeritus.
We have a proud heritage to live up to. Our beginnings were humble and modest, but our founders laid a firm foundation for St. Mark's. The events held in St. Mark's throughout the years have brought joy, inspiration, and enlightenment to many. We are grateful to Almighty God for each new member added to the fold. We pray His divine guidance will allow us to continue to grow, witness, develop, and share new and more challenging ministries.
We remember those who labored in this vineyard who have gone on before us. We rejoice because Almighty God by the power or His victorious hand has upheld St. Mark's for 120 years. We pray His divine guidance will allow us to continue Proclaiming Christ to the generations, and Equipping Disciples to transform the world.