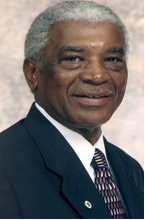 Rev. Eugene Matthews is a product of The Baltimore Annual Conference, having been nurtured by God-fearing parents, Marion and Frances Matthews who shepherd him in conjunction with his religious upbringing at St. Mark United Methodist Church, Hanover, Maryland located in Anne Arundel County. His formal education was in the County Schools of Harman's Elementary, Harman's Maryland, and Bates High School of Annapolis, Maryland.
Eugene comes from a family of very active lay and clergy members. He recalls sensing the call to ordained ministry at an early age, but resisted acting upon it until he could claim ownership for himself. Before accepting his first appointment at Ebenezer United Methodist Church, Sparrows Point in 1965, he spent four years in the United States Air Force, three and a half of which were served in Europe. Eugene also spent 13 years as an analyst at the National Security Agency (1962–1975).
Eugene's ministerial career began at Ebenezer UMC, Sparrows Point, Md. (January–May 1965) and after six months he was appointed to pastor at Cecil Memorial United Methodist Church in Annapolis, Maryland, where he served for ten years (1965–1975) as a part-time local pastor. During those ten years the indebtedness was liquidated and the mortgage burned. Although this does not appear in the Conference Journal because he was not an ordained member of the Annual Conference, he credits these two appointments as a very significant, learning, experience for him which has enhanced all of his pastoral ministry. The following represents his appointments as the official Conference record:
| | |
| --- | --- |
| 1965 (Jan. –Jun) | Ebenezer UMC, Sparrows Point, MD |
| 1965–1975 | Cecil–Memorial UMC, Annapolis, MD |
| 1975–1978 | Central-Summerfield (Wildwood Parkway, Baltimore, MD) (now New Covenant Worship Center) |
| 1978–1984 | Metropolitan UMC, Buffalo, NY |
| 1984–1988 | Sharp Street Memorial, Baltimore, MD |
| 1988–1992 | Frederick District Superintendent |
| 1992–2004 | Asbury UMC, Washington, DC |
| 2004–2008 | District Superintendent, Baltimore West District |
| 2008–2013 | Interim Pastor Franklin UMC, Churchton, MD |
| 2013–2019 | Arlington–Lewin UMC, Baltimore, MD |
| 2019–Present | St. Mark's UMC, Laurel, MD |
Retired from active ministry July 2008, Eugene served the Franklin UMC in Churchton, Maryland 2008-2013.He was again appointed in retirement to the Arlington–Lewin United Methodist Church in Baltimore, Maryland in July 2013. Additionally, he also served as Vice Chairman of The Board of Ordained Ministry (BOOM) of The Baltimore–Washington Conference and was appointed as a Guide in the Baltimore Region in 2009, and again in 2011.
His Educational Background:
1973 – Anne Arundel Community College – A.A.
1975 – Bowie State University – B.A.
1978 – Wesley Theological Seminary – M.Div.
1991 – United Theological Seminary – D. Min.
Eugene's ministerial record indicates the completion and burning of the mortgage at Cecil Memorial. A successful merger and subsequent building of a new church structure of Metropolitan United Methodist Church in Buffalo, NY. During his ministry in the Baltimore–Washington Conference, he has served as Chairperson of the Conference Missional Priority Committee, elected as the first African American to become chairman of the Board of Ministry (1992–1996), later returned as Vice Chair (2008–2012) and previously served on The Board of Trustees of N.M. Carroll Manor as well as the Conference Foundation.
Reverend Matthews served as a member of the General Council of Finance and Administration (GCF&A) 1992–1996 where he chaired the Episcopal Committee .Prior to returning to the Baltimore-Washington Conference he was elected to the 1984 Northeastern Jurisdictional Conference while serving as pastor in the Western New York Conference. Subsequently, he was also elected three times (1992, 1996, and 2000) as a delegate to General and Jurisdictional Conferences. He then served as a reserve member to the 2004 Jurisdictional Conference, and elected as a member of the 2008 Jurisdictional Conference.
Eugene was ordained as a Deacon in 1968 (received conference membership in 1978) and ordained Elder in 1979.
Dr. Matthews is married to Mrs. Jane J. Colbert Matthews, and they have four children: Alvena, Lynee, Eugenia, Reginald, eight grandchildren and eight great grandchildren.
Eugene has two guiding scriptural passages Psalm 27:1 The Lord is my light and salvation; and Philippians 4:13 "I can do all things through Christ who strengthens me".
Rev. Sonia King is the 5th child of 7 born to the late Herbert and Odessa King of Odenton, MD. She was born in Fort Knox, Kentucky and raised in Fort Meade, Maryland. She attended Anne Arundel County Public schools and graduated from Arundel Senior High. She is a lifetime United Methodist and a daughter…